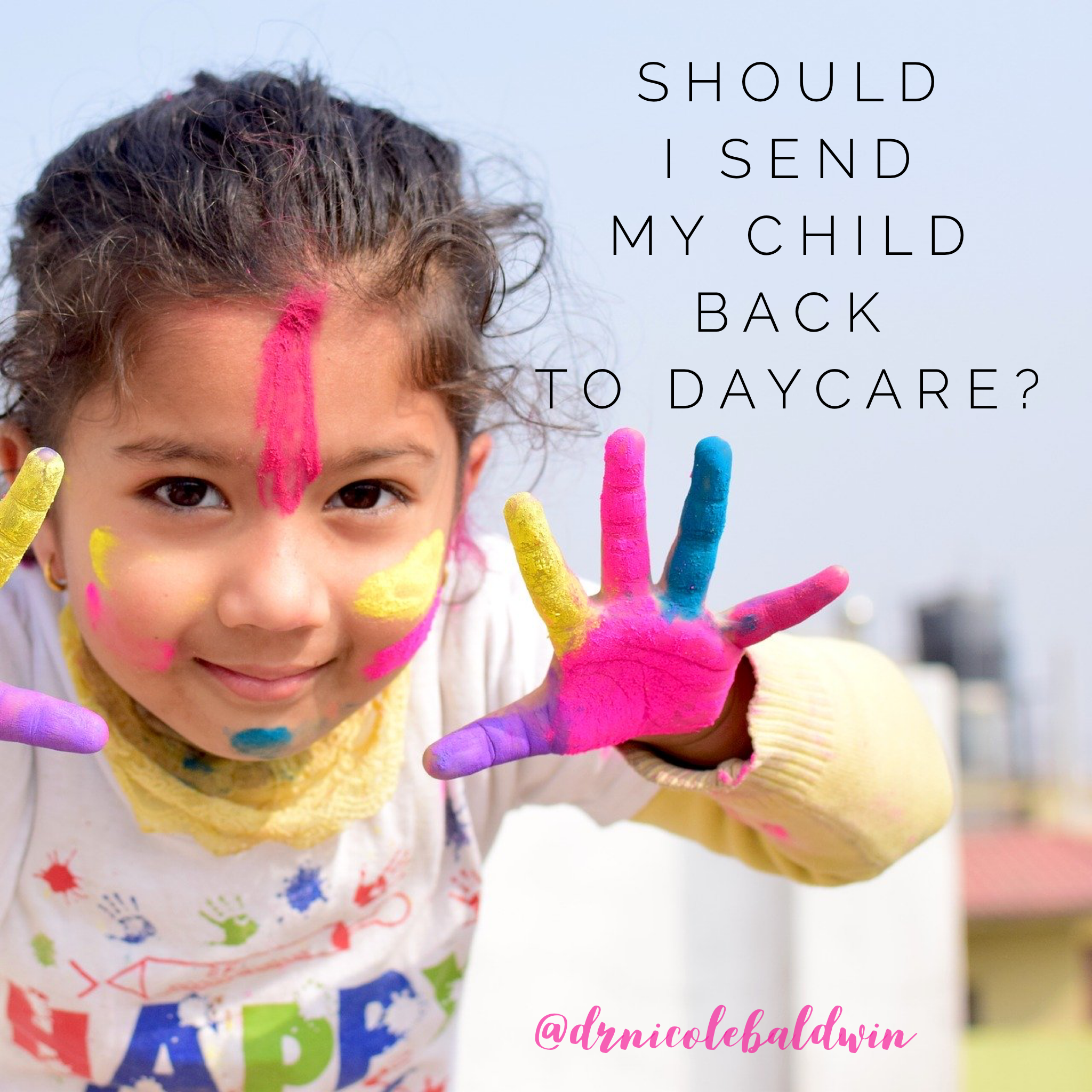 Whether you've still been working outside of the home or your work is virtual – having little ones "stuck" at home is HARD right now…I get it! The #1 question I've been getting in the office is whether or not parents should send their kids back to daycare.
Beyond just the need for childcare, daycare provides socialization for our little ones and a much needed respite for parents. I've heard concerns from parents that even their 2 and 3 year olds are saying they "miss their friends."
As with everything else, whether or not to send your child back to daycare during this pandemic remains an individual family decision. While the data we have right now shows that COVID-19 remains a relatively mild illness in children, there are concerns that children can spread the virus to higher risk individuals.
First and foremost, I would recommend weighing the necessity of daycare in your situation with the risks of COVID-19 in your family. If you or anyone in your home is high risk for COVID-19 (including your child) it is certainly safer to keep them home with as few exposures as possible.
IF you do have the option to keep them home with either a family member or an in home care provider, then the risk of your child contracting COVID-19 is going to be lower.
Many families, however, don't have the luxury of family members that are able to help or the ability to hire an individual provider for their home, so daycare is the best option they have to care for their children while they are working.
For families sending their children back to daycare, here are some things to consider:
What are the cleaning protocols at the childcare center?
How often are they disinfecting surfaces/toys/high touch areas?
How have they changed cleaning protocols from prior to COVID-19?
How many children will be in one room?
What is the ratio of providers to children? Will providers always stay with the same group of children?
What is the drop off/pick up strategy to minimize contact with other families?
Will they require cloth face coverings for staff and older children?
What is the social distancing strategy?
Will they limit classes mingling?
Would they consider keeping siblings together rather than separating classes by age?
How will they monitor for illness?
What is the plan if a child becomes sick during the day?
How will you be notified if there is a case of COVID-19 in the daycare?
What is the plan for disinfecting/closing if there is a case COVID-19?
Will the provider have multiple changes of clothes if their clothes become soiled with secretions?
How will meals be served?
Will children remain in their classroom or will meals be served in a shared space?
Will playground equipment be used and if so how will it be sanitized between groups of children?
While this list is not all inclusive, it's worth checking with your daycare to be sure they are doing everything they can to keep your child safe.
We know that children will contract illnesses at daycare, that's just how it goes, unfortunately. If your child does experience ill symptoms, please call your pediatrician to discuss the best course of action.
For more guidance on specific recommendations from the CDC about daycare facilities, click here.