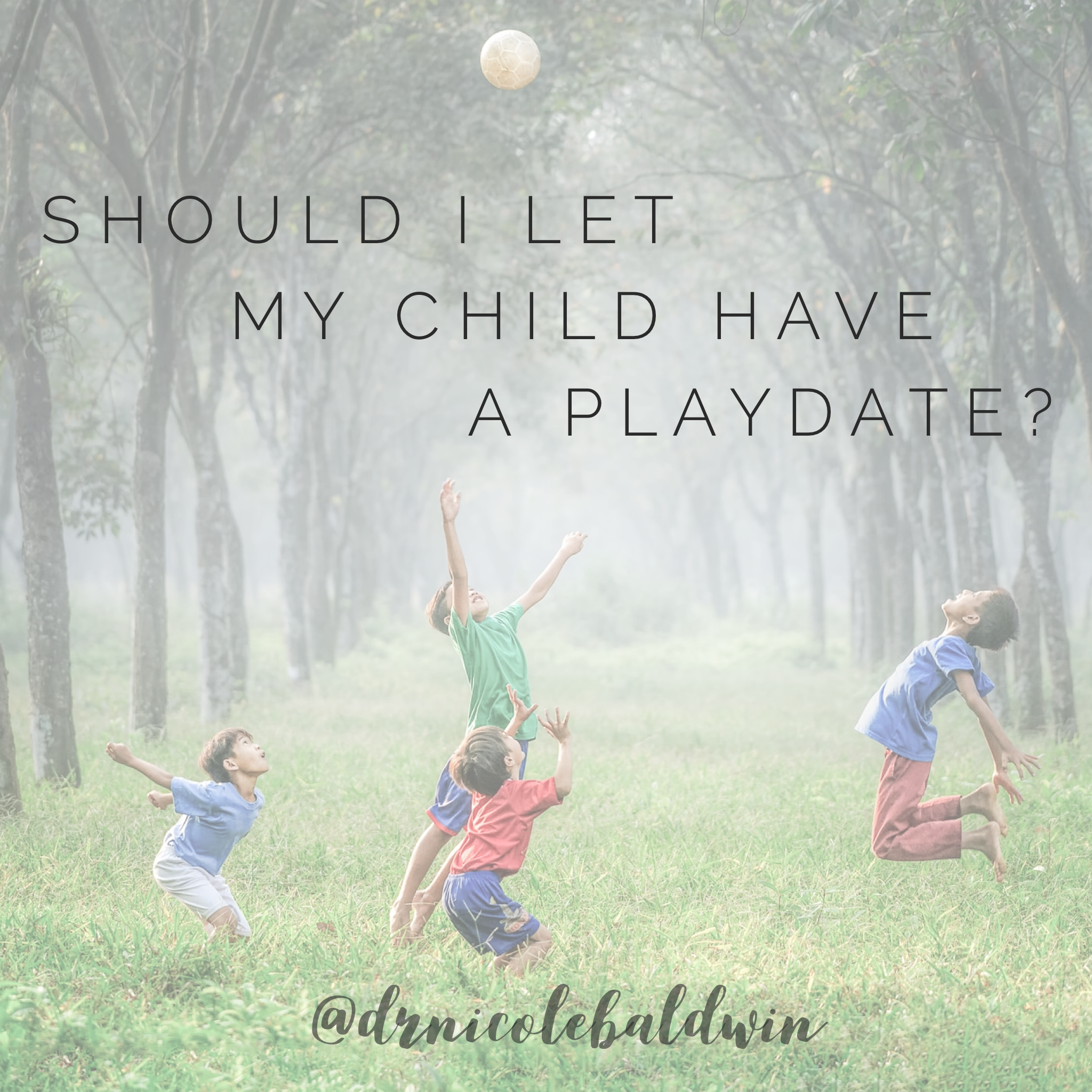 I KNOW kids are going stir crazy. Most of them haven't been in school for 2 months. They haven't seen their friends in person in that length of time either. And let's face it, most parents are running out of ideas to keep kids entertained while staying safe at home. 
So the million dollar question on parents' minds is:
Are playdates safe right now?
This is a REALLY hard question to answer! 2 months ago it was easy – no way. Hopefully 2 months from now it will be easy as well. Right now we are in a transition period and so I will say "it depends."
Most states are lifting stay-at-home orders and families are venturing out of the bubble of their home – so it seems logical that Susie should get to have a few friends over to play.
Here's the thing: young kids are not the best when it comes to social distancing. They like to play closely together, often roughhousing or just touching everything!
What we know to date about SARS-CoV-2 is that children seem to have a more mild illness than adults – so a child may not seem or feel ill, but could still be contagious. This, coupled with the fact that kids just have a hard time maintaining physical distance could be a recipe for disaster.
Here are some things to consider before allowing your children to play with friends:
AGE of your children – older school age children and teenagers *should* be able to understand and maintain social distancing when getting together; toddlers and preschoolers, not so much.
WHO are they playing with. Has the family been practicing social distancing?
Are there HIGH RISK individuals in either family? If so, it's best to forgo playdates for now.
So you've decided to jump in and schedule that playdate… how can you be as safe as possible?
OUTSIDE is safer than inside. If kids do play inside, be sure to sanitize "high touch" areas like door handles, bathrooms, shared toys etc.
TALK to kids beforehand about the importance of physical distancing. You may need to supervise closely in the beginning to offer gentle reminders if (and when) they forget.
SANITIZE hands frequently and forgo any snacks/meals together.
PLAN activities like a hike or a bike ride to keep kids engaged, but distant.
LIMIT the number of children getting together – ideally only one other child for now; remember the more children that play together, the greater the risk. You may want to expand your circle by 1 or 2 families and just have THOSE children play together as a way to add variety, but limit the number of exposures.
As we begin to expand our circles, remember that the best way we can prevent SARS-CoV-2 from spreading is physical distancing, covering our cough/sneeze, and practicing good hand hygiene. If you or your child is exhibiting any signs of COVID-19, please STAY HOME and contact your physician.
Please note: This post is one pediatrician's opinion. Guidance may differ based on the area you live, the prevalence of COVID-19 in your area, and your own physician's recommendations. I always recommend you defer to the advice of local health officials and your child's own pediatrician.