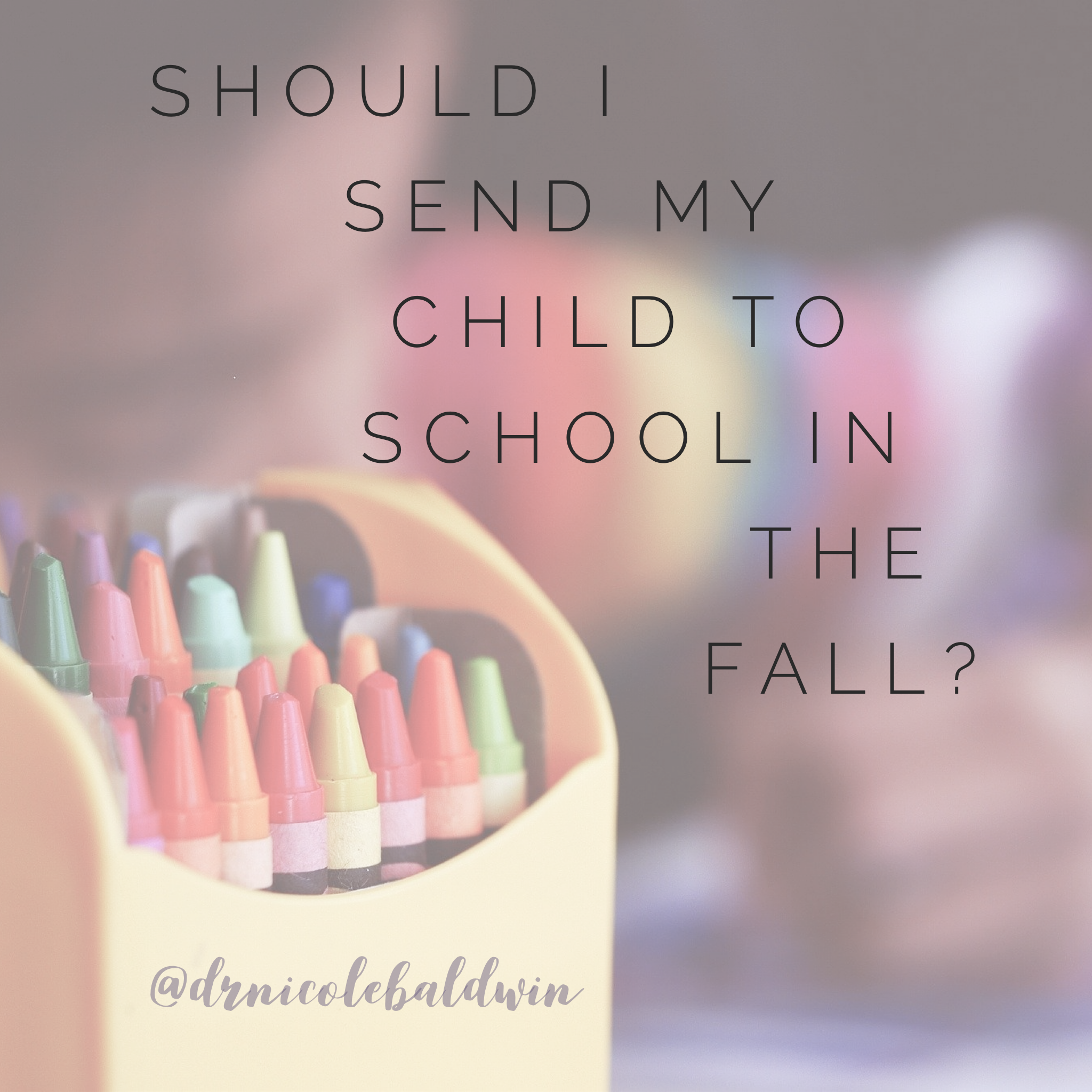 Should I Send My Child Back to In-Person School in the Fall?
It's that time of year again. Time that parents start thinking about back-to-school preparations. THIS year, however, parents are facing VERY DIFFERENT decisions than in years past (oh, to be back to the days when picking out a new outfit or backpack was the most stressful decision that we had to make with our children at this time of year).
And it's not just parents that are grappling with the decision about what is best for their child this fall…schools, governments, and pediatricians everywhere are trying to figure this out as well.
So while there is no one-size-fits-all answer, there are some things that I think each family should consider when deciding whether or not their child will attend school in person vs. virtually this fall.
Risk
Does your child or someone in your immediate family/household have increased risk for complications from COVID-19 infection? If you answered "Yes" to this question, then I would strongly consider distance/virtual learning if possible.
Virtual Learning
Prior to this spring, many parents had NO idea how their child would fare in a virtual/distance learning setting. Well – now we know. Some kids did great – better than expected, in fact. Others, not so much.
When considering plans for the fall, I think it's very important to take into account how your child best learns as well as how they felt from a social and mental health standpoint being home in the spring.
If your child is old enough, engaging them in this discussion is important as well. Did they like virtual learning? Did they feel they were able to learn as much/keep up with peers? Were they disciplined enough to actually get their work done or did they find screens a constant distraction?
All of this, along with the plan from your school district for virtual learning opportunities are important to keep in mind when deciding what to do this fall.
Childcare
Are you, as a family, able to have someone available to care for your child/help them complete school work/answer questions if necessary? Many parents are getting back to work outside of the home while others are still working virtually. Making sure that your child has someone who is able to help with school work is important. This may actually be the deciding factor for so many parents who aren't able to be home or secure childcare for their children if they are not at school.
Social/Mental Health
In-person school is about so much more than just reading/writing/math, etc. Young children learn social skills, develop friendships, and get support and encouragement from other adults outside of their household. Older children often crave interaction with their peers and learn problem solving and independent thinking away from their parents.
The flip side to this is that some kids have increased anxiety when in school. They may be dealing with bullying, perfectionism, or social anxiety. Many kids actually did BETTER with virtual/distance learning for those very reasons.
It's important to take not only the learning aspect but also the social and mental health aspects of in-person schooling into account when making decisions about sending children back to school in the fall.
Routine
How does your child adapt when their routine is disrupted or they have to adapt to a new learning style? The reality is that schools may find themselves having to shut down temporarily in the fall if cases of COVID-19 rise in the area or if there is an outbreak in the school. Is your child (and your family) one that can easily "roll with the punches" or is change/disruption in your normal routine a big problem?
For kids and families that don't adapt easily to change, you may want to consider virtual/distance learning (if feasible) from the beginning as a way to minimize disruptions if (and when) schools have to pivot to different learning environments.
Final Thoughts
While this list is not all inclusive by any means, I do hope this highlights some points for parents to consider when deciding whether or not in-person school is right for their child this fall. For these thoughts plus a few more, check out my video below.
In the end, each of us must do what is best for our child and our family. We must also be able to adapt as this pandemic shifts and changes in the coming weeks and months. Thank you to all of our teachers and school administrators who are working tirelessly to do what's best for our children!
In the words of "High School Musical" – WE'RE ALL IN THIS TOGETHER!