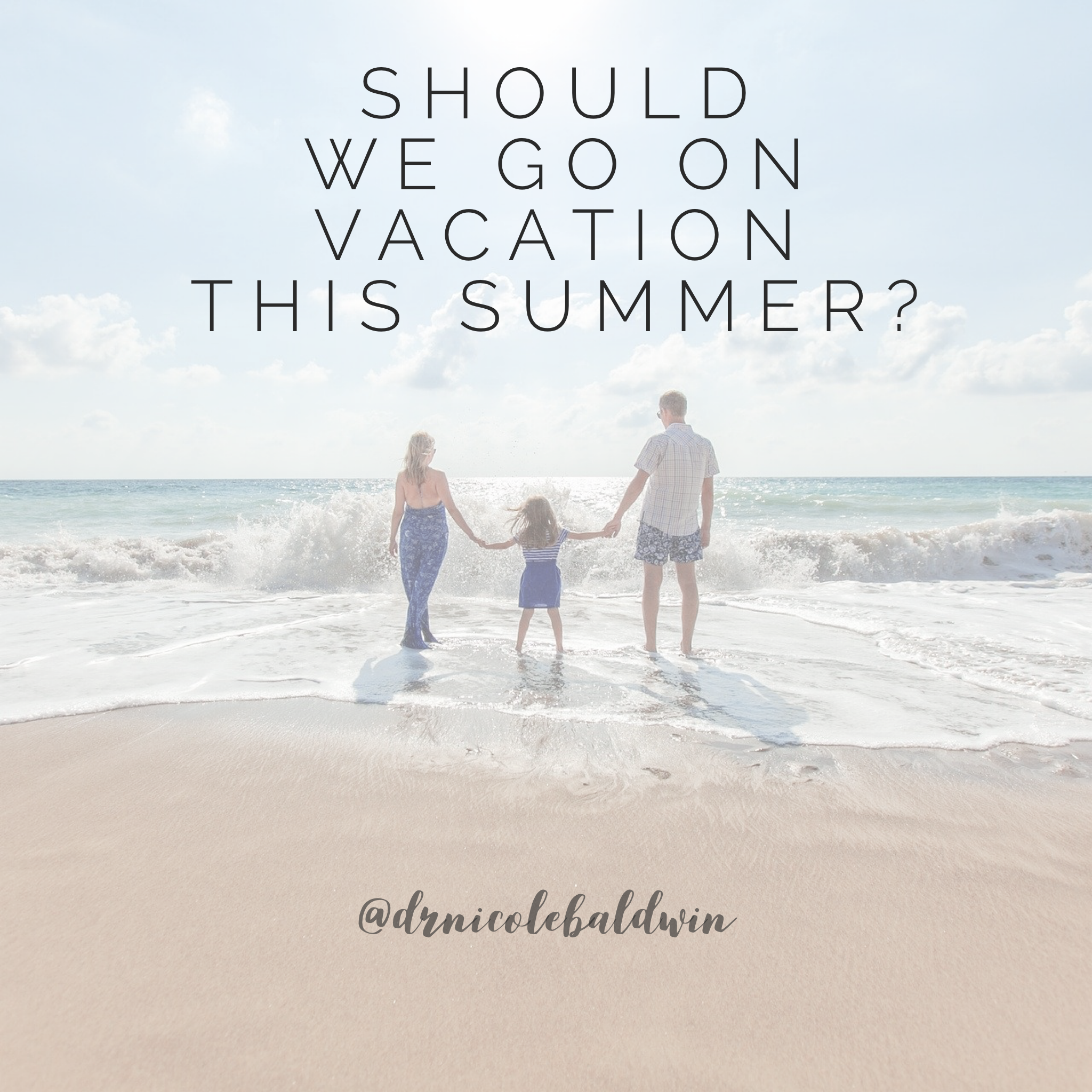 Summer Vacation and COVID-19
For many families, summer vacation is a tradition that they look forward to for months and months. This year, many of you have had to cancel or change plans due to COVID-19 and others are still wondering IF they should travel at all this summer.
As I've said before – home is the safest place to be right now, however for those considering traveling, it's important to consider the risks before making your final decision:
Are you or anyone you are traveling with considered high risk for COVID-19? If the answer is YES, it's probably better to forgo vacation for the time being.
What is the prevalence of COVID-19 in the area you are planning to vacation? Going on vacation in a high prevalence COVID-19 area of the country should be avoided.
What is the prevalence of COVID-19 in your area? If you are currently in a high prevalence area, traveling could put OTHERS at risk and you may want to consider hunkering down at home.
Are there any travel restrictions at your destination or in your hometown when you return (e.g. 14 days of quarantine after travel)? If you are working, needing to be quarantined at home for an extra 14 days upon your return may be an issue.
How are you planning to reach your destination? Driving is preferred over planes/trains.
How easy will it be to maintain social distancing while on vacation? Going to secluded locations is preferred over large crowds.
IF you decide to travel with your family this summer, here are some tips to make your trip as safe as possible:
Drive to your destination if you can.
Bring hand sanitizer, sanitizing wipes, soap, and cloth face coverings with you.
Minimize stops along the way by packing food/snacks in the car.
Opt to stay in vacation rental homes over hotels. If you do stay in a hotel/condo, opt to stay on the first floor if possible to minimize trips in the elevator.
Bring toys/games for kids to play with rather than relying on any community/shared toys.
Check with the local health dept. at your destination to be aware of any restrictions in the area. Understand that travel bans/stay-at-home orders can be reinstated at any time, so check cancellation policies and consider purchasing travel insurance.
Plan outdoor activities such as hiking, fishing, golf, etc. before you go. Be sure to contact each location to see if they are still operating and if there are any restrictions.
If traveling to a beach, opt for smaller more secluded beaches rather than high tourist destinations.
For information about swimming pool safety and COVID-19, click here.
IF you decide to fly:
Call the airline or check online to review policies and safety measures.
Maintain social distancing and wear cloth face coverings while going through security lines.
Bring sanitizing wipes and wipe down seats/tray tables/arm rests/seat belt.
Be aware that many airlines are requiring masks THROUGHOUT the duration of the flight, so both you and your children will need to be prepared for this.
Bring your own snacks and water bottles as many airlines have suspended food and beverage service.
Arrange for transportation from the airport to your destination ahead of time (if possible) to avoid waiting in lines for taxis. 
For more information from the CDC about travel, click here.
Bottom line: the decision to travel is an individual family decision and each person will have to weigh the risks and benefits. Here's to a safe and healthy summer!