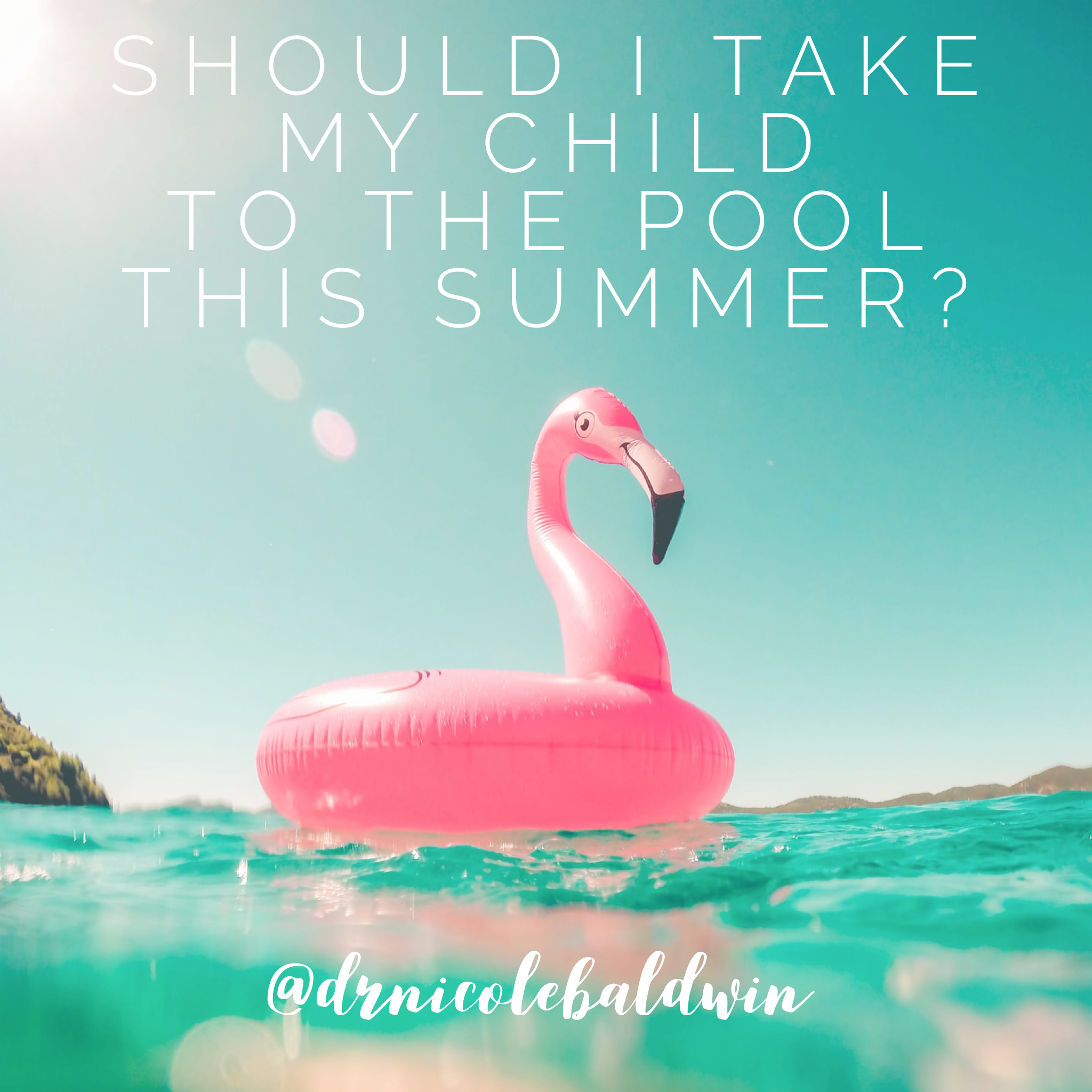 Swimming Pools and COVID-19
As the weather gets warmer and parents search for activities to keep their kids (and themselves) from going completely bonkers, I have been getting questions from parents about whether or not they should take their kids to the pool this summer in the midst of a pandemic.
First of all, no activity is 100% safe – each family must weigh risks vs. benefits. Also note that these recommendations are based on what we CURRENTLY know about SARS-CoV-2 (as of 5/25/2020) and may change as we get more data. 
According to the CDC there is currently no evidence that SARS-CoV-2 can be transmitted through water, so just the function of being IN a pool should be a "low risk" activity.
MY concern, as a pediatrician, is that children tend to congregate with friends not maintaining 6 feet of separation, they may cough or sputter when swimming (potentially transmitting viral particles to those within 6 feet if they happen to be asymptomatic or presymptomatic with COVID-19), and SARS-CoV-2 can be found on surfaces such as plastic and stainless steel for up to 3 days (whether or not enough virus is present to cause disease remains to be seen). 
Be sure to check LOCAL guidelines as each state or city will have different recommendations based on disease activity in your area. IF your community does allow for pools to be open this summer, here are some things to consider:
Type of pool – a backyard pool with one other family is likely safer than large public pools, provided that family has been practicing responsible social distancing, is not ill, and has appropriate disinfecting procedures of their chairs, etc.
Time of day – if you are going to a neighborhood or community pool it's better to go earlier in the day or later in the afternoon when crowds are likely to be smaller (and the sun is less intense at those times anyway).
Location – outdoor pools are likely safer than indoor pools due to better ventilation.
Age of your children – can your children maintain physical distance from other children? Will they understand why it's not safe to be close to their friends? Can they avoid touching their mouth/nose and be trusted to sanitize prior to eating/applying sunscreen?
Prevalence of COVID-19 in your area – higher prevalence or an outbreak in your area certainly increases the risk of any activities outside of your home
SAFETY TIPS IF YOU CHOOSE TO GO TO A POOL:
Bring antibacterial wipes to clean any chairs, or better yet, bring your own chairs if possible.
Maintain physical distance of 6 feet from non family members as much as possible (both on the pool deck and in the water).
Bring your own pool toys and towels and avoid using community pool toys/floats.
Bring hand sanitizer and be sure to sanitize before eating and before applying sunscreen on your child's (or your) face.
Try to AVOID eating or snacking if you can while at the pool. If you do choose to eat, it's better to bring your own food and wash or sanitize hands prior to eating.
Avoid times with large crowds and keep trips short to minimize exposure to different groups of people as much as possible.
Wear cloth face coverings when you are not able to maintain social distancing (e.g. public restrooms, locker rooms, etc.). Face coverings SHOULD NOT be worn in the water.
And last but not least – DON'T FORGET THE SUNSCREEN (and hats, and rash guards and sunglasses)!!
CDC guidelines for pools: https://www.cdc.gov/coronavirus/2019-ncov/community/parks-rec/aquatic-venues.html
Ohio guidelines for pools: https://coronavirus.ohio.gov/static/responsible/Pools-Aquatic-Centers.pdf