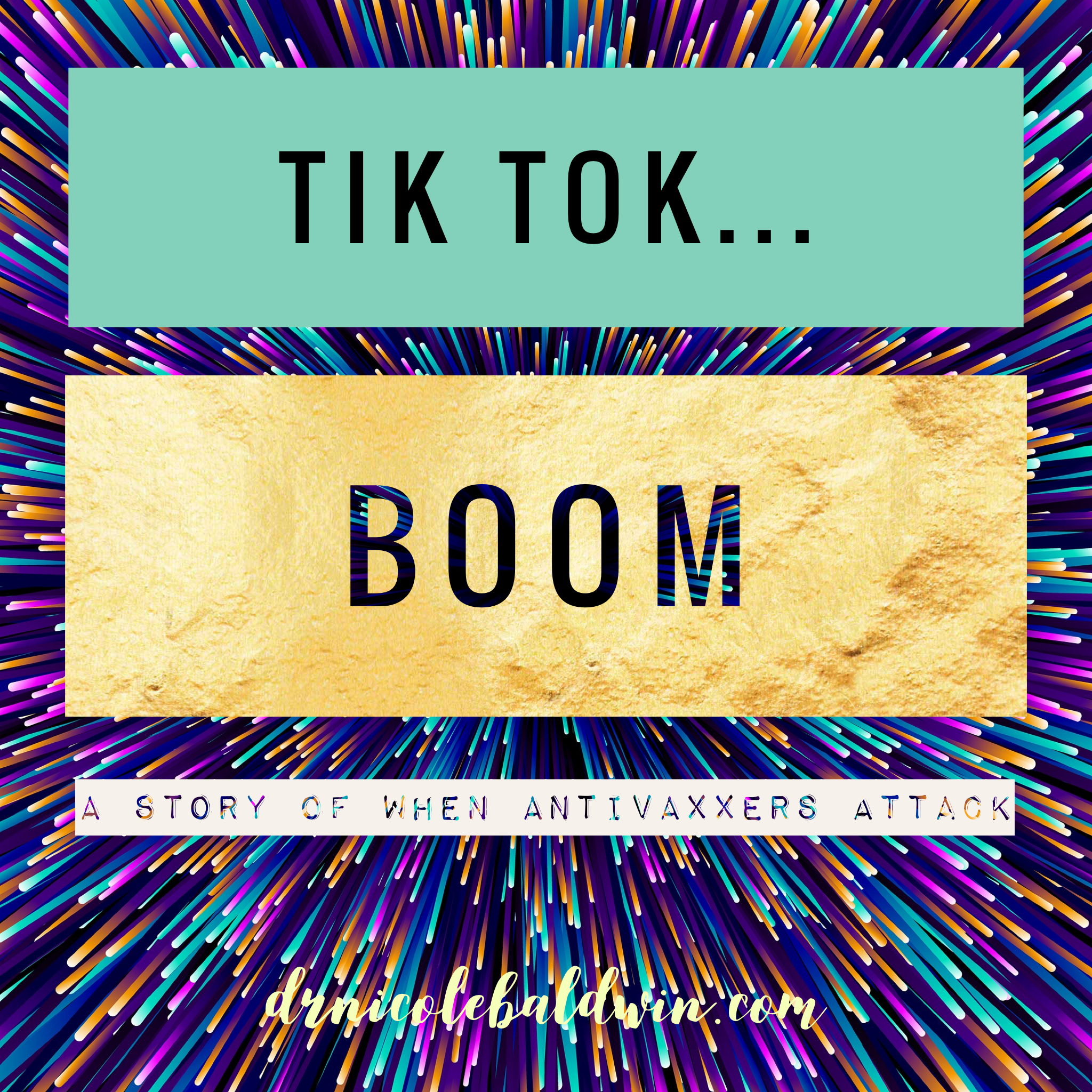 January 10th, 2020 was a Friday. Two days before I had posted my FIRST video to a social media app called Tik Tok. For those who don't know, Tik Tok is a video-sharing social network where users (primarily adolescents) share short form (15 – 60 second) videos typically lip syncing and dancing to popular music. I had decided to join Tik Tok so that I could reach more adolescents with messages about their health and wellness than I was able to reach on my other social media platforms.

Back to Friday – 1/10/2020. I arrived early to work with an idea for a couple of videos that I wanted to shoot in the office before starting to see patients for the day, one being about the fact that vaccines don't cause autism. I quickly shot the videos and then worked on editing throughout the morning when I wasn't seeing patients. I can't remember what time I posted the vaccine video exactly – sometime in the mid afternoon – and then I continued to go about my day. That vaccine video was the 4th video that I had posted to Tik Tok. I remember walking out of the office around 5:30pm after finishing up with patients for the day and commenting to my medical assistant that I was bummed because the video only had 16 views after several hours of being posted on Tik Tok.

As things go on social media, something happened overnight and the video started to gain traction. I woke up the following morning to find that my video was up to 50 THOUSAND views on Tik Tok! I was shocked and excited that the message about vaccine safety was being seen! I decided to post the video on Twitter as a way to both spread the message AND to show the value of Tik Tok for physicians (at this time there had been quite a bit of controversy about whether or not doctors should even be on Tik Tok – but that's an entirely different story). This was Saturday – 1/11/2020.

What happened next felt like being on the Mad Tea Party ride at Disney World. Slowly more and more people started seeing and commenting on my video on Twitter. By the following morning, Sunday – 1/12/2020 – the tweet in which I had shared the video started to go viral. Because the video was so short and gave no explanation about vaccines other than listing the diseases they prevent and the fact that vaccines don't cause autism, I decided to write a post for both Facebook and Instagram giving a few more facts about vaccines.

Initially the response to my video and posts were all positive – people both supporting the message about vaccines as well as the content on Tik Tok. The negative comments didn't start rolling in until 3 days after the video was posted to Tik Tok (2 days after Twitter and 1 day after the FB/IG posts). On Monday – 1/13/2020 – 3 users were banned from my Facebook page due to posting antivaccine messages. Then came Tuesday – 1/14/2020.

I woke up Tuesday morning prior to a work meeting to check my notifications and noticed there were more negative comments. I knew from other's experiences with antivaxx attacks that the best thing to do was hide comments and ban users as they came in – which is exactly what I started to do. Throughout the day, I continued to hide and ban, hide and ban. It quickly became too much for me to handle on my own, so I enlisted the help of a friend who also started hiding and banning as much as she could. That evening I had a shift at work and was unable to continue banning while seeing patients, so my husband also helped ban as many as he could. At some point during my shift that evening, my friend texted me that it was just becoming too much. Comments were coming in hundreds per hour. They couldn't keep up. That is when I reached out to my friends at Shots Heard Round the World.

Shots Heard Round the World is a group that was formed by Dr. Todd Wolynn and Chad Hermann of Kids Plus Pediatrics in Pittsburgh, PA after their practice was subject to an antivaxx attack in 2017. They describe themselves as a "rapid-response digital cavalry dedicated to protecting the social media pages of healthcare providers & practices." I had joined the group in March of 2019 as part of the brigade to help combat antivaxx attacks on others – little did I know that I would be in desperate need of their assistance.

Tuesday evening I posted on the Shots Heard Facebook page that I was drowning and needed help. What happened next was nothing short of miraculous. The cavalry arrived swiftly – lead by one of the most amazing women, Dorit Reiss. I had never interacted with Dorit before this, and I'm fairly certain she had not known who I was either. Dorit is a law professor in California and is fiercely committed to combating misinformation spread by antivaxx groups (which has subject her to multiple attacks as well). I allowed Dorit to become admin on my FB page and gave her permission to add admins/editors as she saw fit. Dorit was able to form a team of volunteers from all over the world to work around the clock banning attackers. That day – 1/14/2020 – a total of 1,035 users were banned.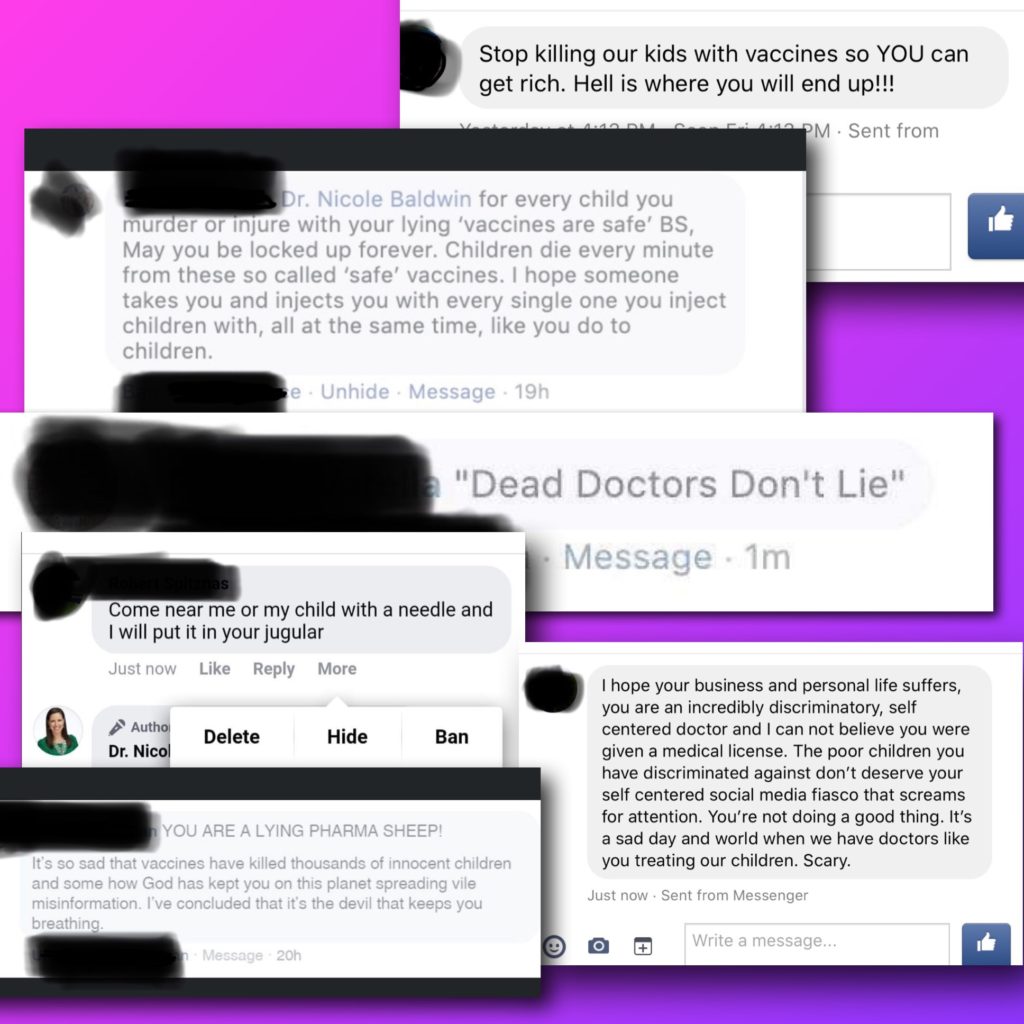 As the antivaxx community began to realize that their comments were not being allowed on my page, they started to reach beyond Facebook. Tuesday evening my practice started receiving calls from people calling me a "pedophile" and insisting that I be fired for "poisoning children."

By Wednesday – 1/15/2020 – my call center was inundated with angry messages from people that had never been to my practice and didn't even live in the state. One caller threatened to come and "shut down our practice." That was when we decided to get the police involved – because protecting our staff and patients is our #1 priority.

That same day, both myself and my practice started receiving fraudulent 1 star reviews on Google, Yelp, and all physician rating sites. Not only were antivaxxers leaving fraudulent reviews, but they were also posting in large antivaxx facebook groups encouraging others to do the same. One person actually bragged about how she was able to change my Google listing to say "permanently closed." Antivaxxers then flooded my practice's Facebook page (again – they were promptly banned and the ability to comment on any post was blocked quickly).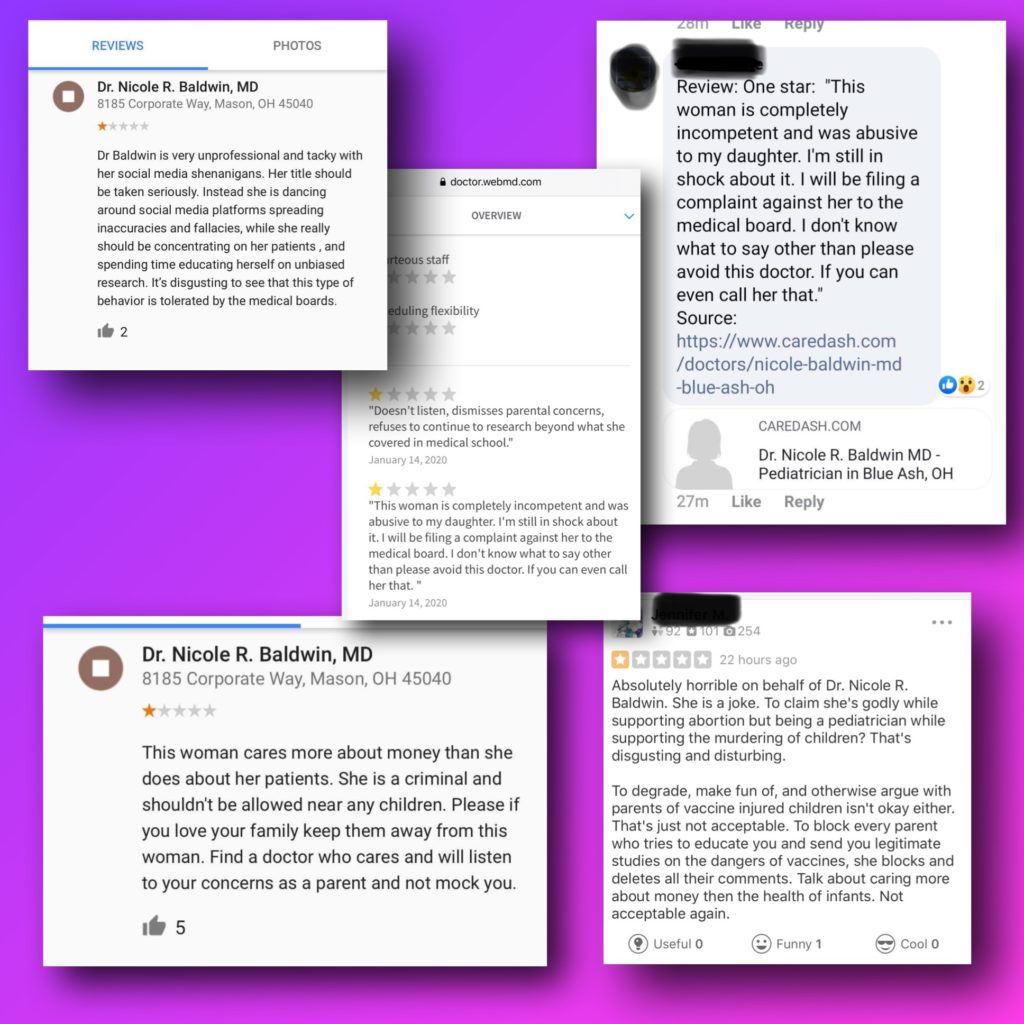 Wednesday – 1/15/2020 – saw the highest total number banned from Facebook at just over 1,600. During this time I had also allowed 2 friends to have access to my Instagram page to ban antivaxxers there as well because I was having a hard time keeping up with everything. I did my own banning on Tik Tok (which had the LEAST amount of negative engagement of all of my social media platforms). 

Thursday – 1/16/2020 – Facebook seemed to slow a bit and I was hopeful that the attack would be coming to an end. I spent the day (which was my day off work) reporting fraudulent reviews, helping to ban attackers and trying to get on with my life. I was asked that evening to interview with a local news station about the attack on our practice. That story aired on the 11 o'clock news – however the focus of the story that aired was on the ONE caller who threatened our practice…nothing was mentioned about the THOUSANDS of people attacking me online.

So that's when I decided to go on the OFFENSE: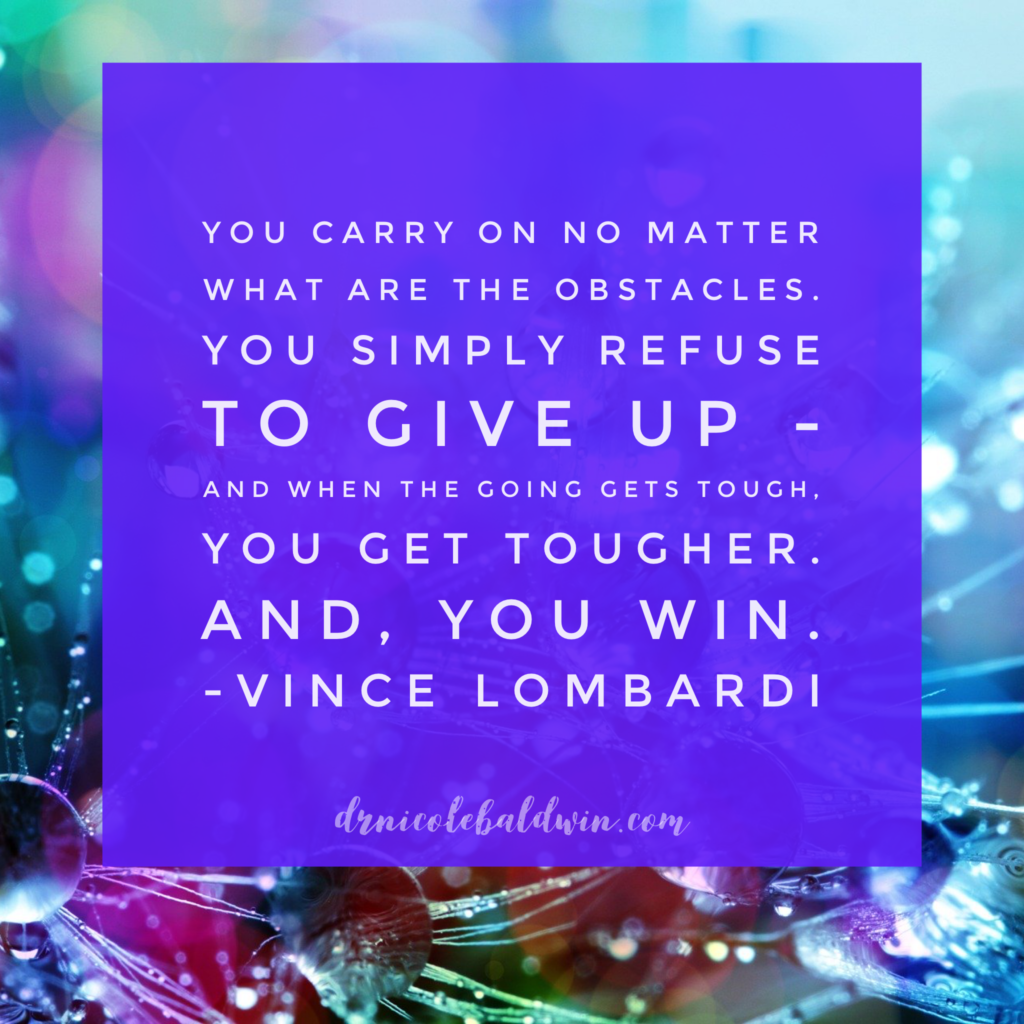 By Friday morning – 1/17/2020 – (one week after the video was originally posted to Tik Tok), I was angry. Angry that this was taking time away from my family, angry that people actually felt it was OK to threaten and bully a complete stranger, angry that this was affecting people that I worked with, and angry that I wouldn't likely be the last person this happened to. That was when I decided to call the antivaxxers out. I wanted the public to understand the extent to which these groups would go to bully and threaten someone.

So I called them out – I posted on Facebook, Instagram, and Twitter about the extent of the attack. I asked for help spreading the word about vaccines as well as reporting fraudulent reviews, doctored photos, and threatening posts. I posted at 7:03 am and then went to work to see patients. That day was the second highest number of banned users at almost 1,200. I discovered that the one thing the antivaxx community seems to like LESS than people posting about vaccines is people calling them out on their vile tactics.

After that post, the attack continued for about another week, slowly dwindling each day. I'm not sure that any of this will truly ever be "over." What started out as an innocent video to spread the word that vaccines don't cause autism turned into a firestorm that has done nothing other than ignite a passion in me that I never knew existed. While the antivaxx community chooses to bully and threaten with the goal that those of us with science on our side will slink away and choose NOT to post for fear of attacks such as this – what this experience has ACTUALLY done has brought together the community of provaccine advocates (who happen to be the MAJORITY, BTW) who are now more vocal than ever because we know it's time to take back social media and combat the spread of misinformation and pseudoscience.